Connected Objects
Pascal Bodin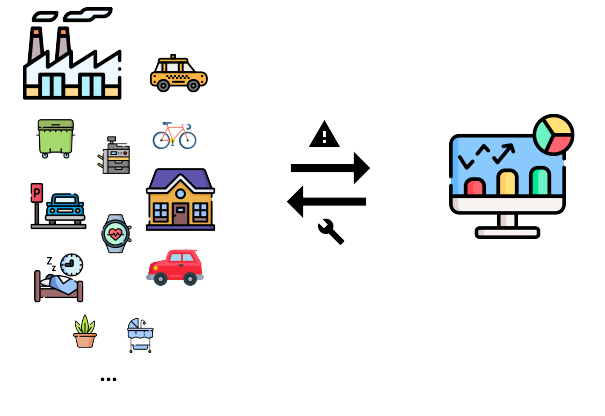 Document history
| When | What |
| --- | --- |
| 05-Mar-2021 | Added how to navigate, UDP lab |
| 24-Feb-2021 | Added links to STM32 and ESP32 hands-on labs |
| 21-Feb-2021 | Added link to a BLE hands-on lab |
| 13-Feb-2021 | Modified title |
| 01-Feb-2021 | Added Z-Wave LR |
| 19-Jan-2021 | Version 1.0 |
How to navigate
Use the right and left arrows (in bottom right corner) to navigate from one topic to another
In a topic, use the top and down arrows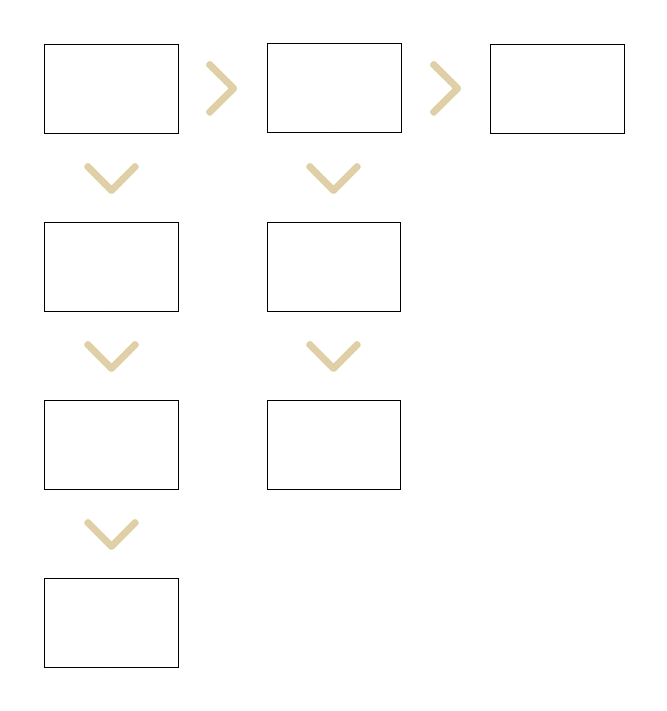 Who am I?
First connected devices project in 1990
Integrator's point of view
Deliver on committed date and committed budget
Deliver a working system
Sometimes: integrate legacy subsystems
Deliver a maintainable system
Target: customer satisfaction
Solving technical problems is only a means
Which systems ?
Consumer systems
Industrial systems
Consumer systems
Industrial systems
Industrial systems:
Feature-rich
Technical complexity
More constraints (real time, security, maintainability, etc.)
Before the '90s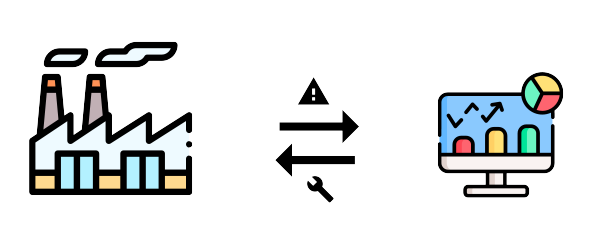 SCADA (Supervisory Control And Data Acquisition)
In the '90s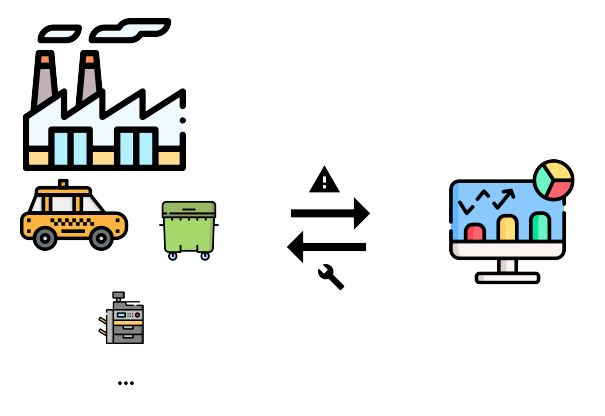 M2M (Machine to Machine) LBS (Location Based Services)
In the '00s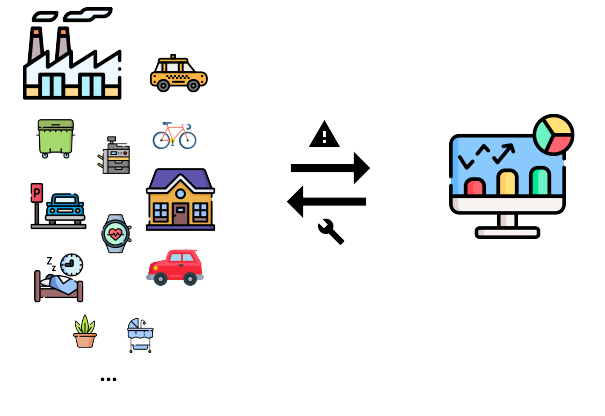 IoT (Internet of Things)
In the '10s
Smart Agriculture
Smart City
Smart Environment
Smart Health
Smart Industry
Smart Utilities
...
Definition?
The Internet of things (IoT) describes the network of physical objects ("things") that are embedded with sensors, software, and other technologies for the purpose of connecting and exchanging data with other devices and systems over the Internet.
Inventor of IoT acronym
Kevin Ashton - 1999
Points to remember
No real definition - too broad a topic
Systems were existing before the IoT acronym
Large diversity of user needs
Different technologies
Example used throughout the presentation
Expressed requirements
Monitor a convoy of 5 vehicles over Europe
Transmit an alarm when:

The distance between 2 consecutive vehicles exceeds a limit
A driver presses an emergency button
When an alarm occurs:

Display the alarm at the operations center
Live display of the positions of every vehicle until the end of the alarm
Audio monitoring
Outdoor coverage must be global
Looking at requirements
What is the average distance between vehicles?
Should the distance limit be modifiable?
Which accuracy?
How to handle road traffic constraints?
Alarm reception delay?
Alarm shutdown procedure?
Installation of equipments in the vehicles?
Power supply?
Limitations for installation of external components (antennas)?
Technical fields
Distance between vehicles: sensors, GNSS...
Manual alarm triggering: sensor
Alarm transmission: wireless network
Embedded / onboard devices
Vehicle tracking: GNSS, GIS...
Global coverage: land mobile networks, satellite...
Confidenciality, integrity, availability
Software
etc.
Project management
Many use cases
Often difficult to get the real needs
Several technical fields
We will see in detail all these elements...
Tracking on alarm
Distance between two vehicles:

Location of every vehicle
Exchange of locations
Calculation of distances
Question: which precision?
GNSS (Global Navigation Satellite System)
Principle:
Satellite constellation
Every satellite transmits messages
Receiver, where location is to be calculated
Messages contains satellite time and location
Satellite time very accurate (atomic clock)
With 3 satellites: location estimate
With a 4thsatellite: synchronization of receiver clock
⇒ Location
Duration/distance : 1 m ⇔ 3,3 ns
Possible sources of errors:

Satellite location: 2,5 m
Satellite clock: 1,5 m
Atmospheric perturbations: 6 m
The most important one: multipath (reflections of satellite signals - urban canyons)
Example of Galileo accuracy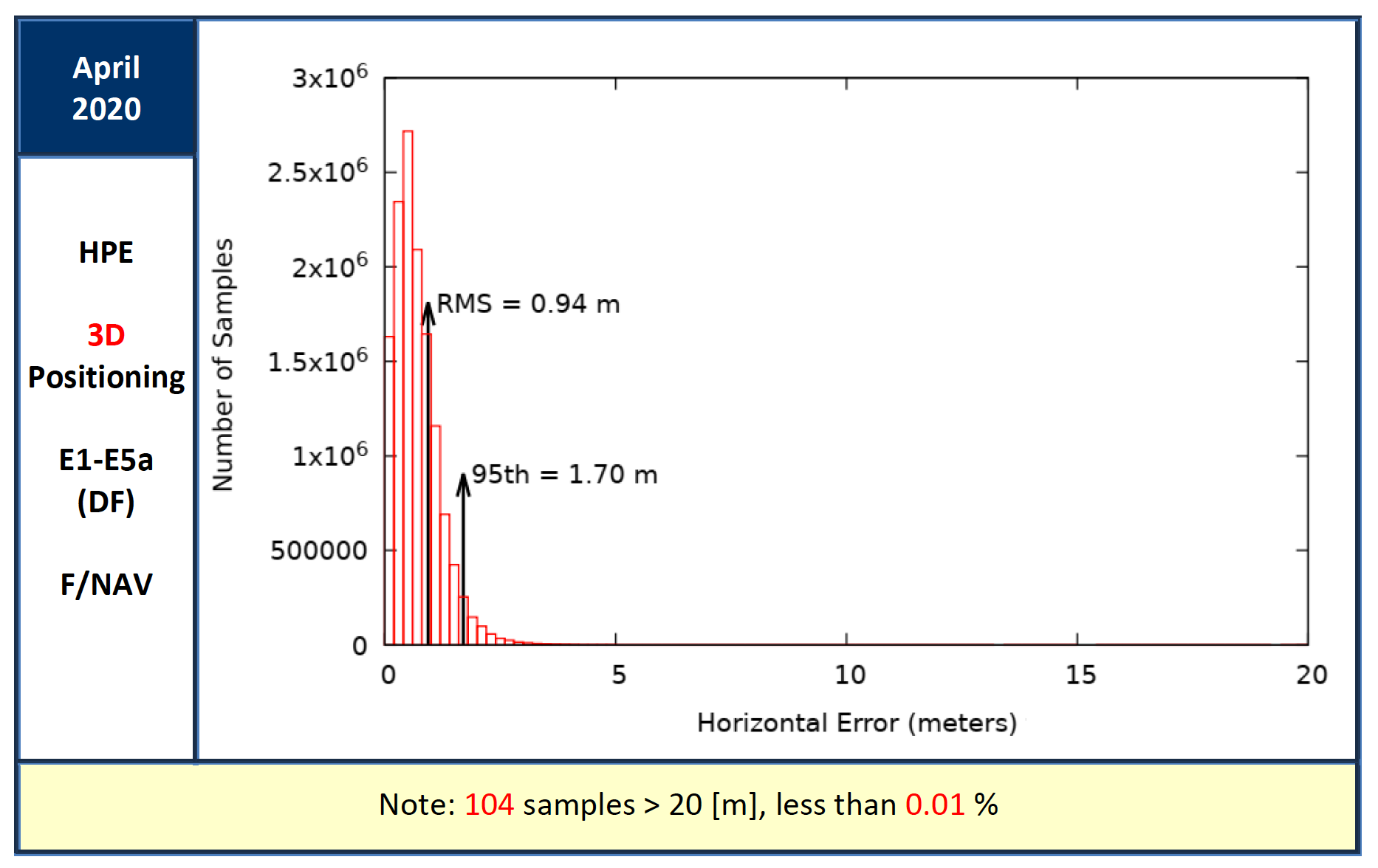 GPS:

USA
Started in 1973, operational in 1993
30 operational satellites in September 2020
Orbits: 20200 km (MEO)

GLONASS:

Russia
Started in 1976, operational in 1995
24 operational satellites in October 2020
Orbits: 19100 km (MEO)
Galileo:

Europe
Started in 1999, operational in 2016
24 operational satellites in October 2020
Orbits: 23200 km (MEO)

BeiDou (北斗):

China
Started in 2000, operational in 2020
30 satellites launched from 2017 to 2020
Orbits: MEO, GEO and GSO
Source:
Galileo
,
BeiDou
NavIC:

India
Tegional system
8 operational satellites in 2020
Orbits: GEO and GSO

QZSS:

Japan
Regional system
4 operational satellites in September 2020
Orbits: QZO
Source:
NavIC
,
QZSS
Accuracy: real-world example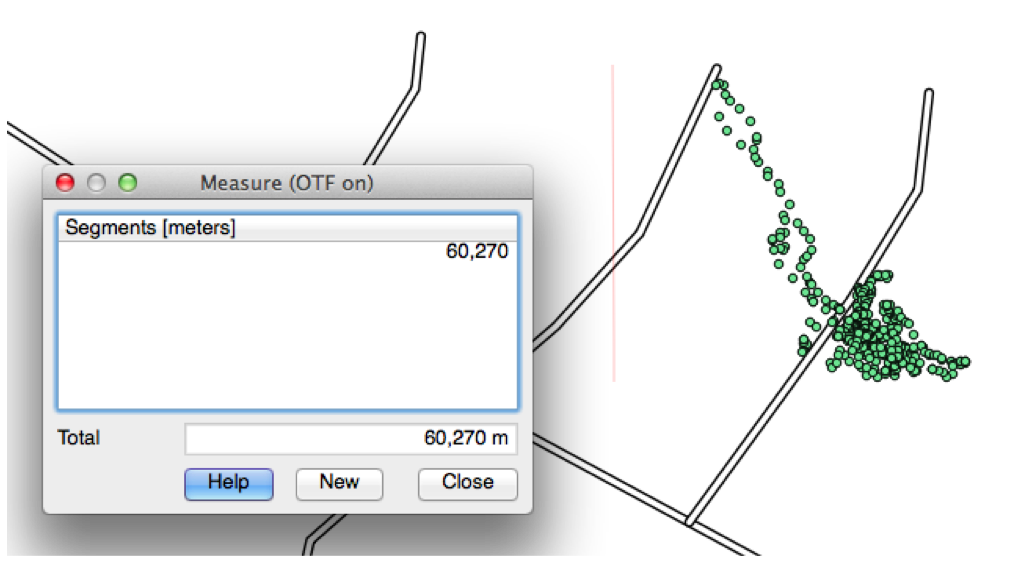 Conditions:
Smartphone GNSS receiver - GPS + GLONASS
In 2017
Indoors, street level, 2 m from a window
One location every 2 s during 15 min
⇒ Several locations more than 60 m far from real location
Increasing accuracy
Broadcasting corrections on regional area
Decreasing acquisition time
First-location acquisition time: Time To First Fix (TTFF)
To decrease it: provide GNSS receiver with almanacs and ephemeris
These data must be transmitted to the device
Historical name: A-GPS (Assisted GPS)
Interfacing with a GNSS receiver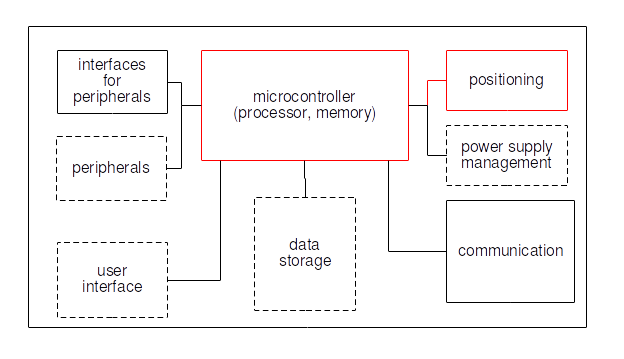 Physical level: serial link (board voltage or V.28)
Data level:

NMEA 0183 - not designed for GNSS
Very often: optimized proprietary protocols
Proprietary protocols:
SiRF (Qualcomm)
u-blox
SkyTraq
etc.
Most GNSS receivers are multi-constellations
Antenna quality and placement are important
It's easy to degrade reception
Positioning with a fixed infrastructure
Trilateration: several distance measurements resulting from time measurements (similar to GNSS)
Triangulation: several angle measurements
Receiving antenna location ("cell")
Beacons, for proximity detection
Dead reckoning
Start from a known location
Path tracking thanks to sensors: gyroscope, accelerometer, magnetometer...)
Sensor data filtering and fusion
Periodical resynchronization
Indoors
Previous technologies may be used indoors, with varying results
Installation of dedicated infrastructure is often required, for good results
Our example
Power supply should be accessible, in the vehicles
⇒ No energy constraint
It seems that inter-vehicle distance calculation may rely on GNSS data
Where to place the GNSS antenna? Where to run the antenna cable?
Points to remember
GNSS, not GPS 🙂
Accuracy increases
Acquisition time decreases
Required energy decreases
But it is still challenging today to position everywhere everytime
Do not confuse positioning and tracking
Transmit an alarm to the operations center
Audio monitoring
Real-time tracking
Global coverage
Communications between vehicles
Foreword
Parts of the information below relate to Europe only, or to France only
But similar elements apply in the rest of the world, with some differences in technology and in regulation
Overview
1G: '80s - analog networks
2G: '90s - digital switchover

Services: voice, data, SMS
Technologies: GSM/GPRS, EDGE, CDMAOne, PDC, iDEN, IS-136, D-AMPS

3G: '00s

GSM/GPRS evolution, CDMA2000 1X/EVDO, UMTS-HSPA+

4G: '10s
5G: '20s
A network is shared among all users
(Almost) no priority management
Operators aim at providing coverage for population, not for territory
Coverage can't be adapted to specific needs
Regulated frequency bands
SMS (Short Message Service)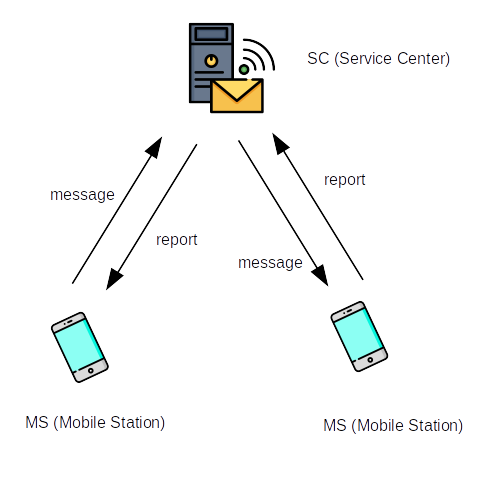 140 bytes, or 160 7-bit characters, or 70 UCS2 characters
Concatenation is possible
No end-to-end acknowledge
Latency: may be high (several hours)
Benefit: allows to send downlink data (to a terminal)
Packet data
Based on Internet potocols (IP, TCP, UDP, etc.)
Some limitations may apply, depending on the subscription (protocols, ports)
2G:

GPRS (General Packet Radio Service) - 2,5G
GPRS services are closed, are being closed, or will be closed
3G:

Rural area: 144 kb/s at least - 384 kb/s at most, 500 km/h at most
Urban area: 384 kb/s at least - 512 kb/s at most, 120 km/h at most
Close to the base station: 2 Mb/s at least, 10 km/h at most

4G:

100 Mb/s downlink, 50 Mb/s uplink
optimized for slow speed, but supports high speed, 500 km/h at most
Historically, data services designed for:

E-mails
Web browsing
Playing movies

Connected devices have specific needs and constraints:

Infrequent, short messages
Often: no external power supply
Often: low cost
To fulfill these needs: LPWAN (Low Power Wide Area Network)

NB-IoT (Narrowband IoT)
LTE-M (Long Term Evolution - Category M1) (LTE = 3G → 4G)

Other LPWAN technologie: see below

PSM (Power Saving Mode): decreased signalling
eDRX (Extended Discontinuous Reception): receiver switched off part of the time
HLCom (High Latency Communications): buffering and dedicated signalling for PSM and eDRX
Half Duplex Mode
CE (Coverage Enhancement): repetitions on data and control channels
etc.
Targets:

Achieve a 10 year battery life
Simpler terminal ⇒ less expensive
Characteristics
Speed: 1 Mb/s uplink and downlink
Latency: from 10 ms up to 4 s
Voice